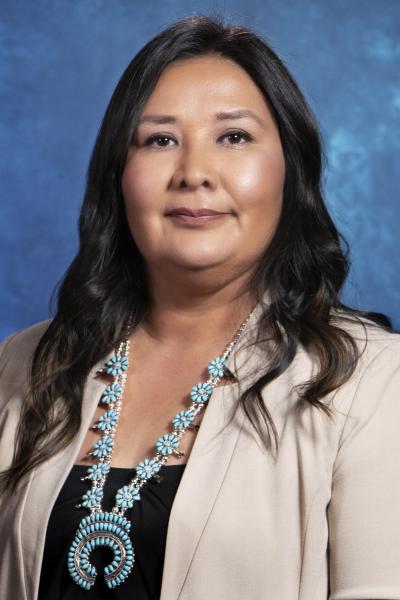 Arizona Department of Economic Security
Jocelyn Beard is Kin łichii'nii (Red House Clan), born for the Lók'aa' dine'é (Reed People clan). Her maternal grandfather's clan is Kiyaa'áanii (Towering House clan), and her paternal grandfather's clan is of the Tódich'ii'nii (Bitter Water Clan). She is from Shonto, Az. 
Jocelyn is a public servant who has worked with the rural and urban community and public health programs for over 20 years to provide education, advocacy, consultation, and awareness about healthy living and social services collaboration. She works to enhance the lives of families and to build healthy communities in Indian County. Jocelyn believes that connecting with people at the individual level and building on the existing community assets fosters communication that can lead to the development of innovative and impactful messages and services. Jocelyn has worked on and supported various programs and services that help lift the communities and families in different parts of Arizona. She has built a reputation for developing and managing community and public health programs, incubating new program models, developing effective and responsible policy-making processes, encouraging and initiating process improvements in service delivery and program processes, and building strong community connections. She is currently the Tribal Relations Manager for the Arizona Department of Economic Security Office of Tribal Relations.
Jocelyn is a certified and trained Lean Six Sigma Green Belt and Certified Public Manager (CPM). Jocelyn holds a Master of Arts in American Indian Studies (AIS) and a Bachelor's degree in Anthropology from the University of Arizona.