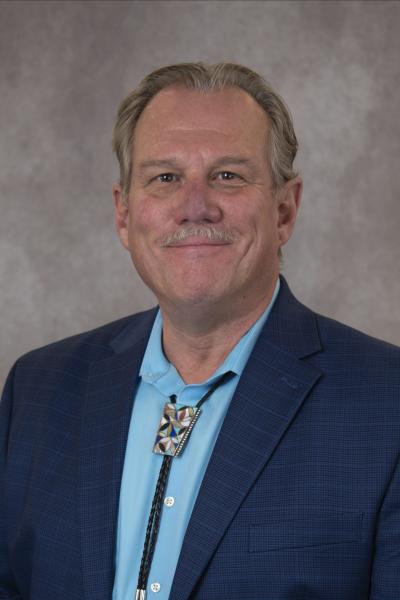 American Indian Health - Area Health Education Center (AIH-AHEC) Director
Jeff Axtell is an Arizona native who has lived and worked across many communities within our great state. Jeff went to Northern Arizona University where he graduated with a Bachelor's of Science in Healthcare Administration. Jeff furthered his education by attending the University of Arizona to obtain his Masters in Public Health/Community Education.
Jeff started out his healthcare career in Bisbee Arizona where he was the Deputy Director for the Cochise County Health Department. After a few years with the county, Jeff relocated back to Flagstaff where he was the Director of the Children's Rehabilitative Services, (CRS) program. After a few years Jeff was assigned the Flagstaff Medical Centers' Cancer Center operations as another area under his directorship. During Jeff's tenure with the Cancer Centers he was able to develop a nurse navigator program, the Breast Health Center, the Expressive Arts Therapy program and many more healing services for individuals undergoing cancer treatments. 
Jeff was hired by North Country Healthcare as the clinic manager for their Williams, Ash Fork and Seligman Community Health Centers. Jeff left the North Country organization and was hired in March of 2017, as the Chief Executive Office for Native Americans for Community Action, Inc. where he was responsible for all aspects of the Federally recognized Urban Indian Health Organization and Federally Qualified Health Center, Jeff introduced many new programs within the NACA organization and established many other supportive service programs that assist Native and non-Native people within the Flagstaff community.
Jeff joined the Arizona Advisory Council on Indian Health Care in April of 2022 and currently serves as the Director of the American Indian Health – Area Health Education Center. AIH-AHEC program activities include Community Based Experiential Training for college students in health related disciplines; youth pipeline healthcare activities for grades K-12; Continuing professional education for primary providers working in Tribal communities; and a community immersion program for graduate students in healthcare fields. Jeff also manages multiple grant programs that focus on workforce development and advancement.