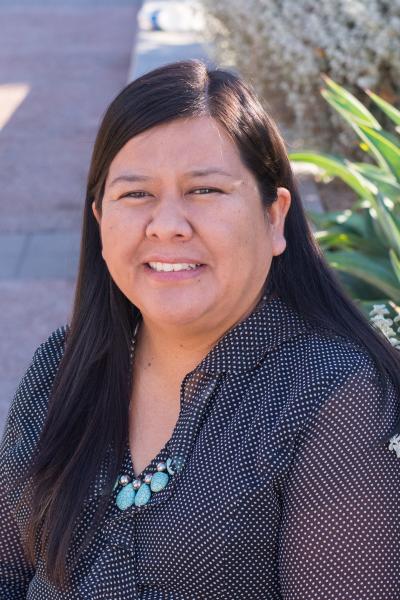 Native American Liaison Arizona Department of Health Services | Public Health Intergovernmental Relations
Gerilene Haskon is a Tribal Liaison at Arizona Department of Health Services (ADHS), responsible for serving as a liaison between ADHS, Tribes, Indian Health Services, Urban Indian Organization, and supporting the Office of Health equity initiatives. Her background is community-based participatory research methodology, mobilizing community networks and collaborations, and implementing maternal and child health programming.

Prior to joining ADHS, Mrs. Haskon was the Tribal Relations Coordinator at the Blue Cross Blue Shield of Arizona, serving as the liaison between BCBSAZ, Tribes, Indian Health Services, and Urban Indian Organizations. Previously, she was the Block Grants Program Manager at ADHS managing federal funding for statewide maternal and child health program implementation, and overseeing contracts with community-based organizations, counties, and Arizona's tribes. She currently serves as a peer reviewer for federal grant opportunities for the Health Resources and Services Administration, and a member of the Northern Arizona University Southwest Health Equity Research Collaborative Community Expert Board.
Mrs. Haskon holds a Master of Public Health degree in Maternal and Child Health and a Bachelor of Science in Nutritional Sciences from the University of Arizona. Gerilene is Bįįh bitoodnii – a Navajo clan also known as the Deer Spring People. She is born for the Ta'neeszahnii, Tangle People. She is the maternal grandchild of the Tsi'naajinii, Black Streak Wood People, and the parental granddaughter of the Tótsohnii, Big Water People. She is originally from the Navajo Nation and grew up in Tuba City, Arizona.