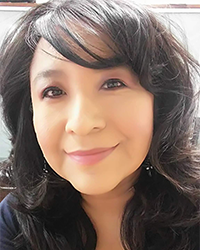 Former Director of the AACIHC - Thank You Tribute to Kim Russell!
It is with great happiness for her, and sadness for us, that the AACIHC announces Ms. Kim Russell's resignation from her position as the Director of the Arizona Advisory Council on Indian Health Care (AACIHC), effective Friday, June 30, 2023. Ms. Russell has begun a new position with the Navajo Nation as their Health Division Director.  
Ms. Russell's exceptional leadership for the past nine years was inspiring to all who worked with her. Her dedicated service has been instrumental in advancing the agency's mission and securing grants to build agency capacity. Moreover, her unwavering commitment to improve healthcare access for all American Indians and Alaskan Natives in Arizona has done much to help tribal communities, with major successes in building the healthcare workforce, dental, children's healthcare, CHR and Medicaid programs, Murdered and Missing Indigenous Peoples, and in bridging the gap between tribal entities and legislative processes.
As a Diné (Navajo) woman of the Bitter Water People, born for the Tangle People, her extensive experience and deep understanding of the unique challenges faced by Indigenous populations has guided the agency's advocacy efforts and ensured that the health agendas and priorities of Tribes are recognized and addressed effectively at the policy and legislative levels. Her collaborative approach and empathetic nature have fostered strong partnerships and empowered communities to take charge of their own health. Agency teammates did not simply work for Kim, they were inspired by her. 
Kim has been at the forefront of many things regarding Indian Country. She has been at the table in D.C., discussing health equity, and has been invited to many Tribal Council tables to provide education on the importance of participation in the advisory council. 
While it is impossible to summarize all of her accomplishments, we can, at the very least, name a few: 
Under her leadership, the Arizona Advisory Council on Indian Health Care grew as a State agency by 900%! It started off with 2 staff, and now has funding for 18!
The COVID-19 Health Disparities Grant was obtained for the agency, so as to help Tribes and tribal communities prepare for the next pandemic, and to continue response to the ongoing pandemic by developing a variety of resources for them. Work has been so well done that the CDC recognized its work in Tribal communities as a best practice in the country, extending this grant from 2 to 3 years.
AACIHC applied for the Community Health Workers for COVID Response and Resilient Communities (CDC-CCR) Grant as a consortium with 7 Tribal CHR Programs and Northern Arizona University CHER Evaluation team. The grant focuses on building capacity within Tribal CHR programs for not just COVID response, but for the mobilization of CHRs in response to any public health emergency.
The agency was invited to play a role in the Arizona Health Improvement Plan (AZHIP). The AACIHC has partnered with the Arizona Department of Economic Security (DES), ADHS, the Arizona Health Care Cost Containment System (AHCCCS), and First Things First (FTF) to focus on strategy 3 of the Rural & Urban Underserved Health Priority. Strategy 3 aims to improve American Indian health by increasing access to care, reducing systems barriers, and strengthening infrastructure.
The agency responded to an RFP (Request for Proposal), and in 2022 the AACIHC was awarded the contract to implement the first ever American Indian Health - AHEC, focusing solely on the Tribal Healthcare workforce in Arizona. Kim Russell, along with an advisory group, was instrumental in advocating at the legislative level for a sixth Area Health Education Center (AHEC) to focus on Tribal healthcare workforce needs. After three hard fought legislative sessions with Kim at the forefront, the legislation passed. 
Kim along with others established the Annual Community Health Representatives Conference to promote CHRs and their efforts, now celebrating its 7th year. Kim was also very involved with the process of obtaining certification for CHRs and CHWs across the state so that they could bill for their services.
Kim Russell offered invaluable insight into research on the Murdered and Missing Indigenous People (MMIP) project within Arizona, helping to create recommendations for the Study Committee and was appointed to serve on the MMIP Task Force.  
Kim Russell strongly and successfully advocated for an expansion to dental services for AHCCCS members. In part, thanks to her efforts, Bill HB2244 was passed and signed into law by former Governor Ducey on March 23, 2020. This legislation required the Arizona Health Care Cost Containment System (AHCCCS) to lift the current cap on emergency adult dental services and to reimburse IHS and Tribal providers for such services, which are 100% covered by federal funds. This legislation has provided significantly improved access to oral health care for Native Americans throughout the state.
As you can see, Ms. Russell's contributions have impacted people all across Arizona. Her tireless efforts have not only strengthened relationships with Tribes, but they also propelled the agency's growth and impact at the state government level. She has always fostered a great sense of community amongst her coworkers and those she worked with externally, always willing to sit and chat when someone had a question about the realities for Indigenous communities. 
It is impossible to over-emphasize the impact she had on tribal communities, and she will be greatly missed. 
So, with heavy hearts, we take this opportunity to celebrate Kim Russell's remarkable achievements and acknowledge her invaluable contributions to the Arizona Advisory Council on Indian Health Care. As she embarks on a new journey as the Health Division Director for the Navajo Nation, we are confident that her passion and dedication will continue to create positive change and elevate healthcare services and advocacy for Native communities.
We will greatly miss you, Kim, and wish you all the best!